Book review: Check Point Firewall Administration R81.10+
There's really nothing lied about the book's subtitle 'A practical guide to Check Point firewall deployment and administration'. The recently published book 'Check Point Firewall Administration R81.10+' by author Vladimir Yakovlev is packed with everything needed by those who are starting with Check Point firewalls but it's also a perfect companion for the more experienced Check Point audience who want to update their current skills.
Right from the beginning it will guide you how to get the most out of the book by pointing out the right tools to build your own virtual lab environment with freely available software (trial or evaluations included), and even the book's GitHub repository to download example code files.
Off course you start with a necessary introduction to Check Point, it's history and today's position in the world of Cyber Security. When you finished the in-depth introduction into common deployment scenarios and are still able to breath (perhaps it's better to take a coffee break now) then you're ready to setup your very own virtual lab. Like I said earlier…it's very practical and dummy proof so new starters don't have to figure out themselves where to find the software, what to choose and how to configure it. It's not just throwing theory lessons at you and then you need to find out yourself, no, it helps you the practical way, so you don't waste time searching for answers yourself. A lot of screenshots will guide you through this. This is the practical way of learning.
Once you've finished setting up your own virtual lab you're ready to dive into Check Point. You will learn everything. Not just the basics, but in-depth how to work with Check Point firewalls, management and SmartConsole. From creating policies, to installing them, updating and upgrading them and again truly in-depth. CPUSE, CLISH, ClusterXL, NAT, ICA, SIC, VPN, packet flow, acceleration, all types of objects, basic troubleshooting, licensing and many more. Nothing is skipped in this book and it's up to date since it's for R81.10+. With this book there is no need for on-the-job training by juniors on your production environment anymore. Instead of that invest in them by buying this book for them and let them learn Check Point in their own virtual lab.
Obviously I recommend anyone who's new to Check Point to sign-up for a CCSA and CCSE training course, but this book is undeniably your real-world companion for the stuff Check Point does not teach you during those courses. It does more and it allows you to continue to work on your Check Point skills through your very own virtual lab environment and prepare for the CCSA and CCSE exams confidently. But even those, who are already CCSE, CCSM or even CCSM Elite, they still can learn from this book, especially if they need to update their current certification to R81.
I imagine scientists who can retrieve Check Point knowledge from the authors brain will end up with an exact copy of the book. It's a real braindump from Vladimir Yakovlev's brain, yet probably only the first few gigabytes from his Check Point library 😉
I really enjoyed reading the book, and the way the author helps the reader in their Check Point journey. Therefore I definitely recommend the book 'Check Point Firewall Administration R81.10+' by Vladimir Yakovlev to anyone whenever they are new to Check Point or not.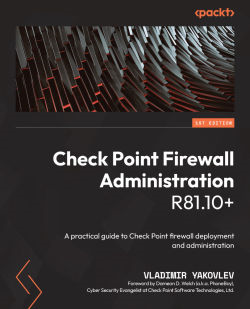 Available at Amazon